WATCH THE DAVIS CUP VIA STREAMING
DOUBLES
WILL
BE
KEY
SAYS
DE
JAGER
South African team captain John-Laffnie de Jager said the doubles encounter on Saturday will be crucial in determining the outcome of their Euro-Africa Group One Davis Cup tie against the Netherlands in Potchefstroom.
"If you look at Davis Cup ties, the majority are won by the side that wins doubles," said De Jager.
"Tomorrow's doubles will be key for us."
Kevin Anderson levelled the singles with his victory in four sets over Dutchman Thomas Schoorel after Rik de Voest lost his earlier match against Robin Haase, also in four sets.
Kevin Anderson get pumped up in Potchefstroom
Kevin Anderson in action again Thomas Schoorel in South Africa's Euro/Africa Group I Davis Cup Tie against The Netherlands
"We just have to focus on our team. Tomorrow is a big day and going into Sunday, either 2-1 down or up, is going to be huge for us," De Jager said.
In De Voest's match, a set up and serving for a 3-1 lead in the second set, Haase broke his serve and began to turn the match.
"Rik being up a set and a break, and five game points to go up three one - Haase was actually losing it a little bit," said the captain.
"It's amazing how one game can change a whole match. He [Haase] got more confidence and started playing more aggressively," explained De Jager.
Haase beat De Voest in four sets and it meant Anderson had to win his match against Schoorel to draw level with the Dutch.
"I haven't really played against a guy who hit the ball that hard from the baseline consistently," said Anderson.
"I felt that, over time, if I just took care of my own service games and making more returns (on Schoorel's serve) I would start making inroads."
With the third set going to a tiebreak , at a set a piece, Anderson said winning the breaker was the turning point.
"That was a big stage of the match and, having won that, it really allowed me to step up and control the match in the fourth."
De Jager always felt that Anderson would be too strong for Schoorel.
"I knew this guy was going to come out going for everything, and in that first set he was coming off but I knew Kevin would be able reel him in," said de Jager.
"I said to Kevin, 'stay with it, keep your serve and create opportunities because at some stage he's going to start missing'.
"I just felt that if he could play like that over five sets, then I'd take my hat off to him but mentally I knew that Kevin would be too strong for him," he said.
The South African captain would not confirm who would partner Wesley Moodie in the doubles.
Izak van der Merwe is listed in the draw but the captain is permitted to make a change to the team up to an hour before the match starts.
Moodie said he expected Haase to be a certainty in the doubles even though he was not initially pencilled in for the doubles.
Dutch captain Jan Siemerink hinted that, with Haase playing well on Friday, he would likely play in the doubles match while Jesse Huta Galung and Igor Sijsling were the two players nominated at the draw on Thursday.
SAPA
Results from the Euro/Africa Group 1 Davis Cup Tie South Africa vs The Netherlands, Day 1, played at North West University, Potchefstroom from 8-10 July 2011
Potchefstroom, South Africa
Singles (SA names first)
2-Rik De Voest lost to Robin Haase 7-6(5) 3-6 0-6 4-6
1-Kevin Anderson beat Thomas Schoorel 6-7(5) 6-4 7-6(4) 6-1
South Africa and The Netherlands are tied at 1 rubber a piece.
EURO

/

AFRICA

GROUP

1

DAVIS

CUP

DRAW

–

SOUTH

AFRICA

VS

THE

NETHERLANDS
The draw for the Euro/Africa Group 1 Davis Cup Tie between South Africa and Finland, by BNP Paribas, took place today, 7 July 2011 at North West University in Potchefstroom. The draw is as follows :
Friday 8 July 2011
09:45
2 Rik De Voest (RSA) vs 1 Robin Haase (NED)
Followed by
1 Kevin Anderson vs 2 Thomas Schoorel (NED)
Saturday 9 July 2011
12:00
Wesley Moodie (RSA)/Izak van der Merwe (RSA) vs Igor Sijsling (NED)/Jesse Huta Galung (NED)
Sunday 10 July 2011
09:45
1 Kevin Anderson (RSA) vs 1 Robin Haase (NED)
Followed by:
2 Rik De Voest (RSA) v 2 Thomas Schoorel (NED)
Both teams may change the players of the nominated team until one (1) hour before the scheduled start of the doubles, until one (1) hour before the scheduled start of the third singles match (not previously having played singles) and until 10 minutes after the completion of the third singles match for the fourth singles match (not previously having played singles)
Tickets for the tie are available from www.ticketpros.co.za and Postnets across the country. Friday 8 July – R50, Saturday 9 July – R30 and Sunday 10 July – R50
NORTH
WEST
UNIVERSITY
TO
HOST
SA
VS
NETHERLANDS
DAVIS
CUP
TIE
New ground will be broken when the Euro/Africa Group 1 Davis Cup tie between South Africa and The Netherlands will be staged in Potchefstroom at the North West University's Puk Campus Sports Grounds.
The tie will take place from Friday July 8 until Sunday July 10.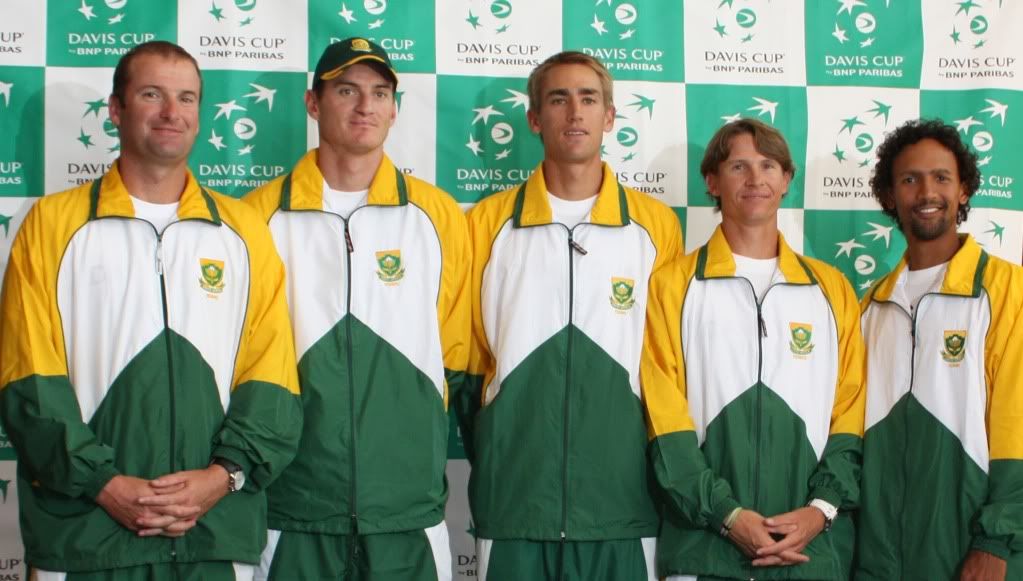 The Potchefstroom Campus hosted Soccer World Cup champions Spain during last year's tournament and boasts first-class sporting facilities. Recently, two International Junior tournaments were hosted in Potchefstroom at the Riaan Venter Tennis Academy which is based on the NWU Puk Campus. It was due to the success of both tournaments that the South African Tennis Association (SATA) have decided to take this event to the same venue.
"The reason this venue has been chosen is to bring international tennis to smaller places in South Africa and at the same time adhere to the players' wishes to play at altitude," explained SATA chief executive Ian Smith. "Potchefstroom has been very good to tennis and the NWU Puk has always given great support."
Director of Sport at the NWU Puk, James Stoffberg, said they were anticipating a superb event. "We have already proved that we are up to the task in hosting international events and we know the players will be well catered for. It is also exciting for us to stage an international tennis event at the NWU Puk. "
South Africa and The Netherlands have until Tuesday 28 June according to the Davis Cup and ITF rules to make their team nominations.